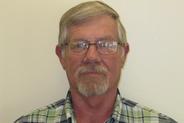 Joseph Hardin, Zia Therapy Center/Z-Trans
Representing: Enhanced Mobility for Seniors and Individuals With Disabilities (5310 Programs)
Term Expiration Date: April 2024
Contact Information:
Office Phone: (575) 439-4900 ext. 152
Email: [email protected]
Became a Board Member in 2005
Treasurer for 2 Years
Vice President for the Last Four Years
Filling an At-Large Position
Former NRTAP Review Board Member
APTA BMTS (Bus Maintenance Training Standards)

Committee Member

Chair of the Alamogordo Chamber of Commerce

Transportation Committee
I am the transportation director for Ztrans in Alamogordo. I have been employed at Zia Therapy Center Inc. since 2002. I have been transportation director since March 2004.
We operate a fleet of 20 vehicles for 5311, 5316, and 5310 programs. Since I have been director, we have landed numerous private contracts and have seen our public ridership rise from 1100 riders per month to over 10,000 riders per month. We serve Alamogordo, La Luz, Tularosa, Holloman AFB, Mescalero Apache Reservation, and Las Cruces with our public transit.
I am also a previous member of the board for the South Central Regional Transit District, representing our city and county.