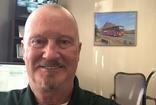 Ed Powers, All Aboard America
Representing: Director At Large
Term Expiration Date: April 2022
Contact Information:
Office Phone: (505) 428-6316
Email: [email protected]
Ed Powers is the general manager of the All Aboard America! Santa Fe division, overseeing the company's contract operations with the New Mexico Department of Transportation Park and Ride system and the Rio Metro Regional Transit District program.
An industry veteran since 1999, Ed has worked in essentially every facet of the motor coach industry to include washing buses, operating OTR charters and Operations Supervision in Arizona to Mine Transportation Operations in Wyoming, destination charters in Las Vegas, and most recently with AAA in capacities ranging from Corporate Safety Director to Regional Director of their Texas divisions before relocation to the Santa Fe division.
He has also served on various 501(c)(3) boards in positions ranging from a Founding Director to Public Relations, Secretary, and Treasurer.
Ed is highly committed to the support and promotion of all forms of public transportation from charter operations to transit programs.