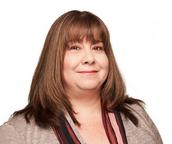 Elizabeth Carter, Rio Metro Regional

Transit District
Representing: Director At Large
Term Expiration Date: April 2024
Contact Information:
Office: (505) 843-1712
Email: [email protected]
I began my career in transportation in 1993 when I went to work for the City of Santa Fe Transit Division in Santa Fe, New Mexico as a secretary and then as an administrative assistant providing information to the public and administering the ADA paratransit program until 1995. From 2003 to 2006, I once again went to work for the City of Santa Fe as their Job Access and Reverse Commute (JARC) Contract Administrator overseeing the City's JARC program which provided demand response service to low-income individuals, compiled and prepared the City's National Transit Database reporting, and prepared and submitted Federal Transit grant applications for Sections 5307, 5309, and 3037.
From 1995 to 1996, I worked for the District Attorney's Office and then worked for the Santa Fe County Sheriff's Office Investigation Division from 1996 to 2000.
Upon receiving my bachelor's degree, I determined I wanted to work in the transportation field as I liked that public transportation improved the quality of life of individuals who otherwise had no means of transportation to get to where they wanted to go. From 2000 to 2003, I worked for the New Mexico Department of Transportation (NMDOT) as an urban and regional planner managing the statewide Vanpool Program, New Mexico Park, and Ride program, three Rideshare Programs, three Metropolitan Planning Organization Programs, and 18 Job Access and Reverse Commute programs throughout New Mexico and prepared and submitted Federal Transit grant application for Sections 5303, 5309, 5310, 5311, 3036, and 3037 programs.
From 2006 to 2013, I worked for the Los Angeles County Metropolitan Transportation Authority (Metro) in several capacities:
ADA paratransit program administrator overseeing Access Services the Los Angeles county-wide paratransit provider that provided service on behalf of Metro and 44 fixed route/municipal operators;
Transportation contract services manager overseeing the administration and operation of 18 contract bus routes, Access Services as well as three Transit Operations Agreements for four additional routes.
Acting assistant transportation manager at Division 10, monitoring and interacting with operators to ensure compliance with policies, rules, procedures and regulations, practices, and labor agreements; and
Service operations superintendent overseeing Transportation Contract Services (18 bus lines) and Access Service as well as four directly operated divisions with 15 managers, 2000 operators, and 30 routes.
From 2013 to the present, I have been working with Rio Metro Regional Transit District as the assistant transit director overseeing bus operations within Bernalillo, Sandoval, and Valencia counties. The transportation service consists of directly operated fixed route, demand response service, and contracted bus and taxi services.
While at Metro, I attended Cal State – Long Beach University and received a Master's Degree in Public Administration.